Welcome to Year Five
Summer Term 2: How is Brazil different to England?
Summer Term 1: Oakworth Investigators
Trip to the Bronte Parsonage
As part of our English, we have been reading the book 'The Brontes - children of the Moors'. We enjoyed a walk through the beautiful countryside of Oakworth over to Haworth. In Haworth, we visited the Bronte Parsonage then went for a well deserved play in the park.
Oakworth Tour - Evidence of the past
There is so much history right under our noses! We looked at how buildings have changed over time in Oakworth and what they had previously being used for.
Oakworth Graveyard
Mrs. Sugden gave us an informative talk about Oakworth Graveyard. It's great that we can keep the history and stories from people in our village alive by learning about their lives and passing on these stories to our families. It's amazing what hard work has gone into making this an area where people can once again visit.
Oakworth House
Identifying primary sources of evidence in Oakworth Park of Oakworth House. Mrs. Sugden pointed out many clues to the past and gave us information about Sir Isaac Holden and his home. It was extremely interesting finding out about history, literally on our doorstep!
Spring Term 2: Out of this World!
Visit to the Science and Media Museum
We had a fabulous Space Day at the Science and Media Museum in Bradford. We started the day with a Space Show, which had us all amazed! We then explored the Wonderlab and had a talk around the giant sphere. After completing an observation quiz around the museum, we finished the day with an amazing 3D film called 'Planet Earth' where we felt like we really were in space!
We researched and made our own Power Points about our solar system and the planets within it.
We have been learning all about the movement of the Earth around the sun, how day and night is created and looking at evidence that supports that the Earth is roughly spherical.
Phases of the Moon
We learnt all about the phases of the moon and try to recreate them using Oreo cookies. We also kept a moon diary which we have been updating every day after observing them in the night sky.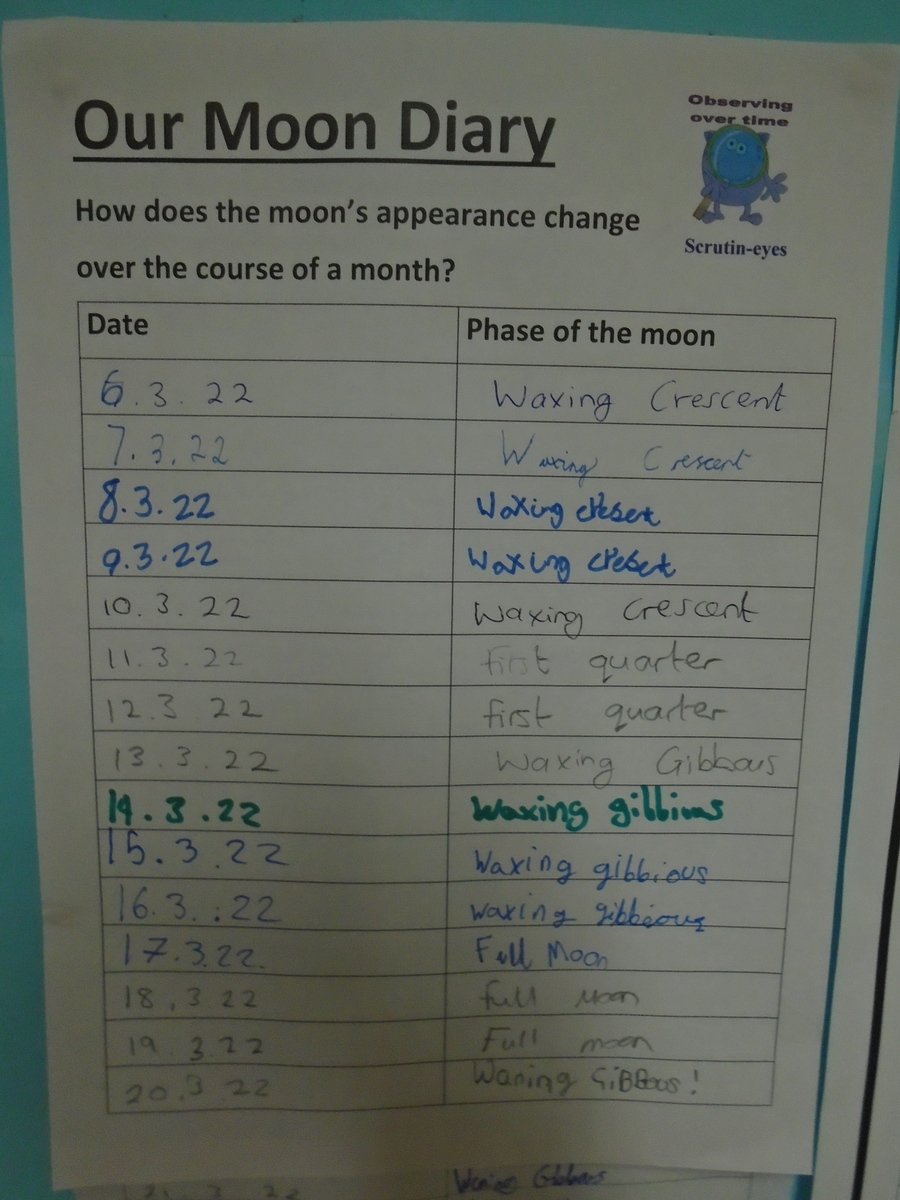 We welcomed some exciting science visitors linked to our space topic.
Spring Term 1: Super Scientists
Year 5 have been super scientists this half-term!
As super scientists, we began our topic by following our own lines of enquiry linked into materials and their properties. The children thought hard about how they would answer their enquiry question, the variables they had to keep the same to ensure a fair test and what their results showed. It was tricky at times and lots of changes were needed throughout the experiments. Super science in action!
The children learnt about dissolving and investigated which materials were soluble and which were insoluble.
Science Art work
In art, we have been comparing the styles of two different artists -Pablo Picasso and Andy Warhol. The children appraised each artist's
approach to creating portraits and then attempted to create their own portraits of famous, distinguishable scientists. They independently explored and experimented with sketching and colour blocking techniques, before comparing and discussing the outcome of their final pieces.
Autumn Term 2: Who can make the most successful Viking boat?
Investigating forces in science!
Investigating air resistance with parachutes.
Investigating water resistance by varying the shape of plasticine and watching it move through water using a slow motion app.
STEM CHALLENGE - Who can make the most successful Viking boat?
We decided the boats had to be judged on:
Speed moving through the water

Appearance - its had to look like a Viking boat (we researched this!)

Strength and durability - it had to carry 6 Lego men and remain in good condition after sailing
DT skills session - learning to use a saw, drill and craft knife safely.
Designing, making, testing and adapting our Viking boats.
The final competition and our fantastic Viking boats!
Autumn Term 1: Anglo-Saxons
The best way to learn about Anglo-Saxons and the jobs they did was to try them out ourselves!
We are Saxon blacksmiths and chefs!
Learning how to build and light fires safely. The Saxons relied on fires for many things so needed to be competent fire builders. I'm not sure they would have had the marshmallows to toast on them like we did though!
We are Saxon weavers!
Building and weaving fences for our land and weaving baskets in our wonderful woodland surroundings.
We are Saxon carpenters and goldsmiths!
Learning about Anglo-Saxon life by researching and making a Saxon village or house
Forest School - Developing our team worker skills
Our Saxon films explaining some of the jobs that the Anglo-Saxons had. Which job would you have liked to do? * Coming soon!