News
Oakworth Primary School Snow Plan
In the event of extreme bad weather and to avoid any confusion, the school will operate the following Snow Plan. We hope this will help you to make childcare arrangements with as much notice as possible, in the unlikely event that the school should be forced to close.


If there should be significant overnight snow:
An assessment of the movement of traffic on Oakworth Road and of the condition of the school site, will be made by staff at 6:45am.
If conditions permit, the School and Care Club will open. However, Nursery classes will close, because of the high staffing levels legally required to open these classes and the likelihood that all teaching and support staff will not arrive at school on time.
A decision will be reached by 7am and parents will receive a text message informing them if school is open or closed. A message will also be posted on the school website and any main school closure logged on the Bradford Schools' Online website.
If the school is open, the kitchen will provide hot lunches/sandwiches for the children, as normal.
Should snow begin during the school day, the school will inform parents by text if it is advisable to collect children early. The school will never close during the day, unless all children have been safely collected by parents or carers.

Please could all parents ensure that the School Office has a current mobile number for texting purposes.
Mum's and babies enjoying our recent yoga class
30.11.17 - The Tea Towels have arrived!
02.10.17 - Dates for new prospective parents to look around reception
Monday 27th November 2017 at 9.00am
Friday 1st December 2017 at 1.30pm
Monday 11th December 2017 at 9.00am
04.07.17 - Career Talks
24.04.17 - New Classrooms
14.11.16 - Children in Need: The Big Spotacular

We would like to invite all Oakworth Primary children to join Pudsey's 'Big Spotacular' this Friday; by leaving their school uniform at home and wearing spots to school, in return for a donation to Children in Need.
We also have a limited number of Pudsey ears (£2:50), keyrings (£2:50), white or black patterned wristbands (£1:50) and pink, yellow, purple or red bear wristbands (£1:00) which will be on sale throughout the week- please send the correct money in a sealed envelope, clearly labelled with your child's name and class, should you wish to purchase any of these items.
Many thanks in advance for helping to support this very worthy cause.
07.10.16 - Injury Minimization Programme for Schools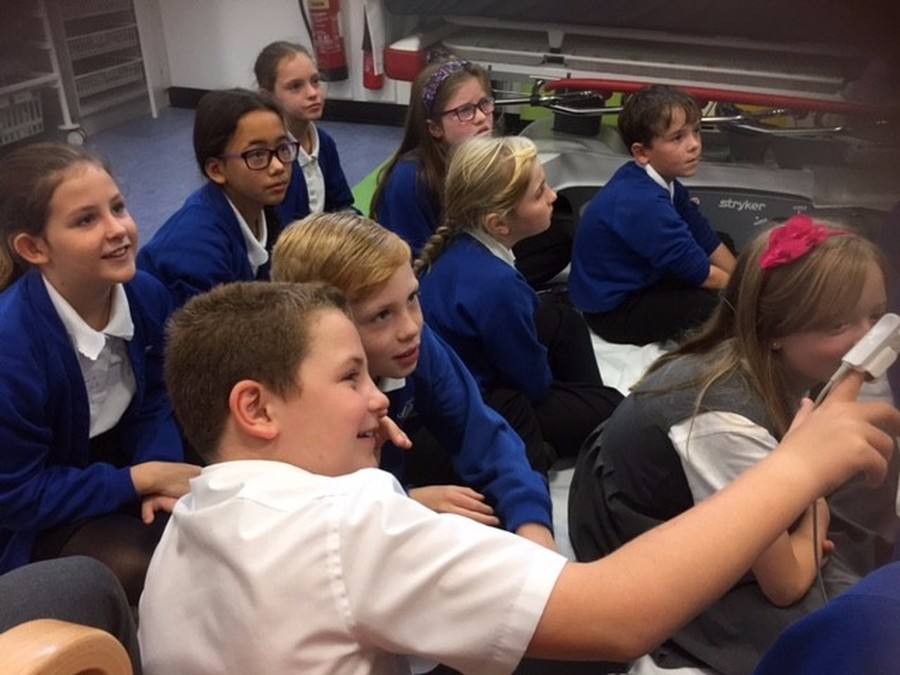 Year 6 had a great day at Airedale hospital as part of their IMPs program. We learnt about road safety, CPR and what to do in an emergency - the children had such a great day!
22.09.16 - Raising money for Manorlands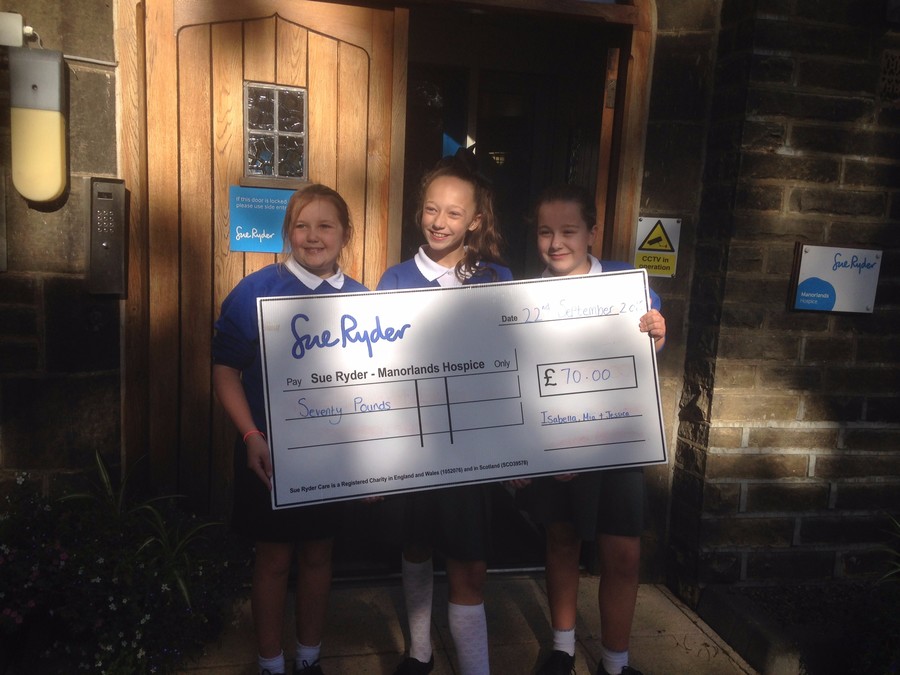 Congratulations to the year 6 children who raised £70 for Manorlands by holding a stationary sale at school - fantastic efforts from caring, hard working pupils.
10.09.2016 - Celebrating Roald Dahl's 100th Birthday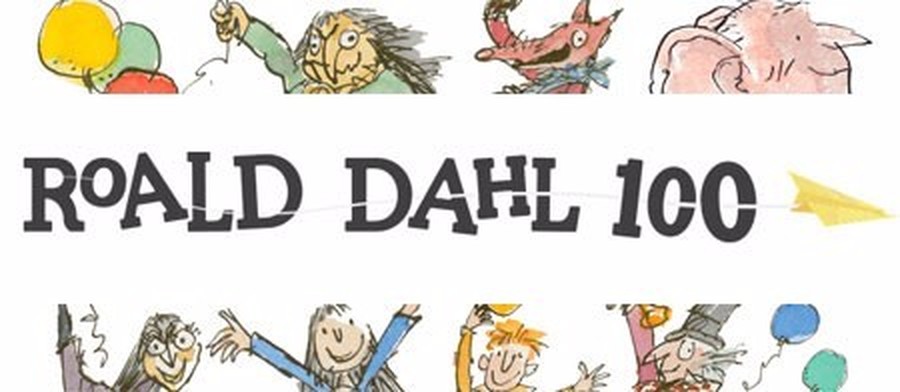 On Tuesday 13th September, 2016 we will be celebrating 100 years since the birth of the author Roald Dahl. Every class in school will be enjoying this special anniversary by taking part in various fun, Roald Dahl inspired, activities.
We will be sharing some of Roald Dahl's fantastic stories with the children, so if you have one of his books at home, please could your child can bring it to school, so that it can be shared with their class?
We are also running a Roald Dahl competition throughout the school: we would like the children to create their favourite Roald Dahl character (this could be painted, drawn, created in collage, etc) and to hand it in to Mrs Ambrose before Friday 16th September. There are a number of exciting prizes to be won!
Our children have made us so proud this year - they've worked hard through tough SATs and have shone in their own individual ways.
We are so proud of them all and wish everyone all the best for the future - please come and see us (even when you think you're too cool)!
Love from Miss P & Miss M
Oh I Do Like To Be Beside The Seaside!
Public Transport & Keeping Safe
Year 6 have been learning all about different aspects of using public transport.
A Special Treat at The Lemon Tree
Play-a-thon
On Thursday 23rd June, Oakworth Primary held a play-a-thon day to complete our year of fundraising for Airedale Hospital. We played different types of games and enjoyed making our own games. We also part in a penalty shoot out- what a great day!
Seaside WOW Start
Bhangra Dancing
Lightwater Valley
A massive thank you to all the parent helpers who came to Lightwater Valley - we all had a fantastic day!
Street Party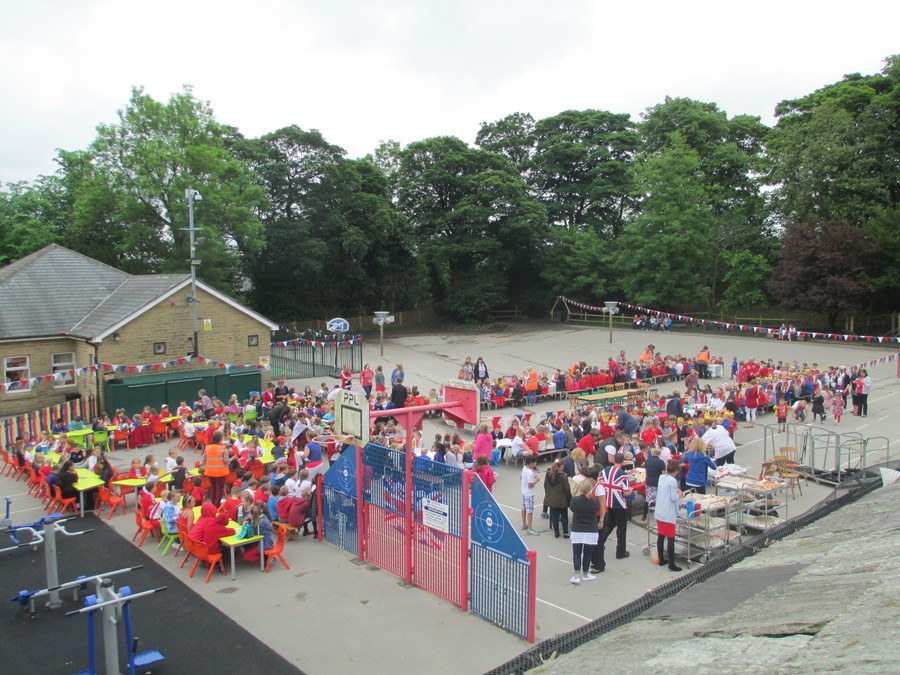 On Monday 13th June the whole school celebrated the Queens 90th birthday by having a street party picnic. The children arrived at school dressed in red, white and blue with thanks to parents for helping to organise this. We celebrated this special event with a visit from Thornbury School. We ended on a high note with a whole school rendition of the National Anthem.