eTwinning Project 2015 - 2016
&nbsp
eTwinning is an online platform for linking schools across Europe. It enables children to communicate, collaborate, develop projects, share and be part of the most exciting learning community in Europe.
eTwinning promotes school collaboration in Europe through the use of Information and Communication Technologies (ICT). To Find out more
click here.
This year, we have partnered with C.E.I.P Manuel Vidal Portela school in Spain, enabling the children to practise the language skills they have learnt in school. We are starting by undertaking a project called 'Christmas around Europe' which will be trialled initially by children in Year 5 Leopards.
Christmas around Europe 2015 Project plan

Participants
Schools from a number of countries around Europe will be involved in the project: England, Finland, France, Germany, Italy, Norway, Poland, Spain, Ukraine.
We will share pictures of our schools so that the pupils can learn from these photos.
This project is also being used by the English schools to develop partnerships with other European schools, which may lead to Erasmus+ partnerships and exchanges. It is also being used as a training project.
Project Logo
The first activity is a logo competition. Children in all classes at Oakworth have had the opportunity to design a logo for the project. The top three logos from Oakworth have been uploaded to the eTwinning website along with winning logos from each of the other participating schools. Each school will vote for its favourite logo.
Christmas decorations
Pupils will research, develop and share ideas for hand-made Christmas decorations in their country. Instructions for making the decorations will be shared onto the eTwinning website. Decorations will be made by and displayed in each of the partner schools. Year 5 Leopards made paper snowflakes, writing instructions for our partner school to use.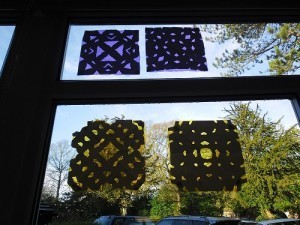 Christmas traditions around Europe
The children will share information about Christmas in their country. They will learn from each other about some of the Christmas traditions in Europe, including traditions, carols and food. At Oakworth, all of the children are learning to sing a traditional Spanish Christmas carol in SingUp. Please see the video and lyrics below.
Christmas cards and ecards
Children in Year 5 Leopards will make and exchange Christmas cards with children in the Spanish partner school.
Skype
We will hold a skype calls with our partner schools where we will sing one another's Christmas carols and show our Christmas decorations.
ebook
We will make an ebook of the decorations as a lasting outcome of the project.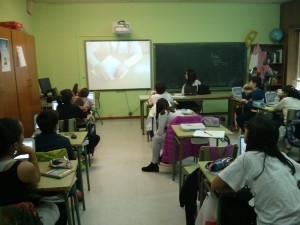 Children at C.E.I.P Manuel Vidal Portela using the eTwinning website to look at the songs and Christmas decorations uploaded by Oakworth Primary School and the other schools across Europe participating in the project.
Bell After Bell
Bell after bell,
And after bell, one!
Lean out the window
You'll see the Child in his crib.

&nbsp

Bethlehem, bells of Bethlehem
That the angels ring
What news do you bring me?Your flock is gathered,
Where are you going little shepherd?
I'm going to the stable to bring
Cottage cheese, lard and wine.

Campana sobre campana
Campana sobre campana,
Y sobre campana una,
Asmate a la ventana,
Vers al Nio en la cuna.

&nbsp

Beln, campanas de Beln,
Que los ngeles tocan
Qu nuevas me trais?Recogido tu rebao
A dnde vas pastorcillo?
Voy a llevar al portal
Requesn, manteca y vino.